How does it work?
The TRASHPRESSO machines are housed on a 40-foot container platform that is movable anywhere by trailer truck. It is powered by a solar-charged energy storage unit housed on a separate 20-foot container platform.
The TRASHPRESSO compacts the recycling process into five simple steps: Shredding, washing, air drying, dehumidifying, and baking. In addition, an air and water filter minimizes the environmental impact of the operations.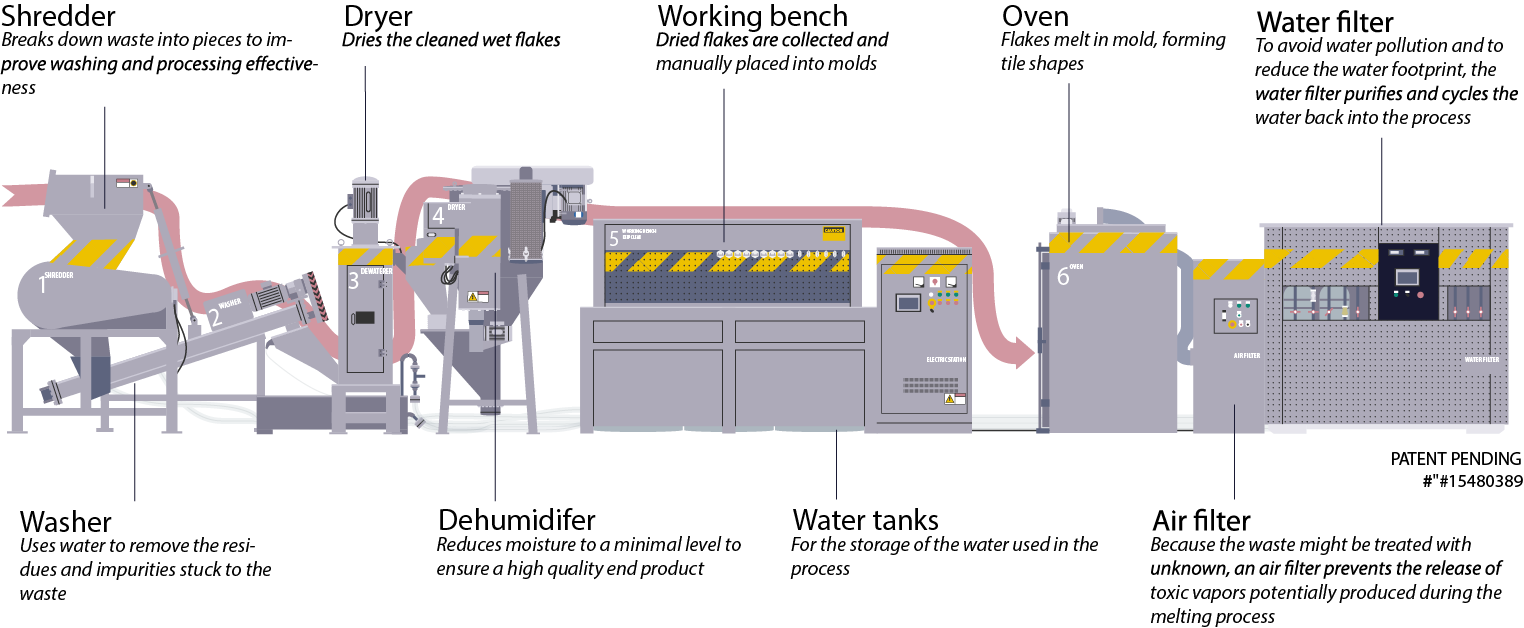 The Upcycling Process
From trash to tiles
The TRASHPRESSO can upcycle up to 50KG of waste per hour. Waste is converted into architectural tiles that have both a utilitarian and raw material value.
The tiles are very versatile and resistant, allowing for a wide variety of applications. They can be used decoratively as interior or exterior decoration finishes or serve as flooring.
When waste are compressed into the tile format, recyclable material is less bulky and therefore less costly to transport, facilitating transport to an industrial facility. At a recycling plant, the tiles can be once up-cycled through cycles such as yarning, injection, or extrusion.
The TRASHPRESSO can upcycle any thermoplastic that has a melting point lower than its burning point.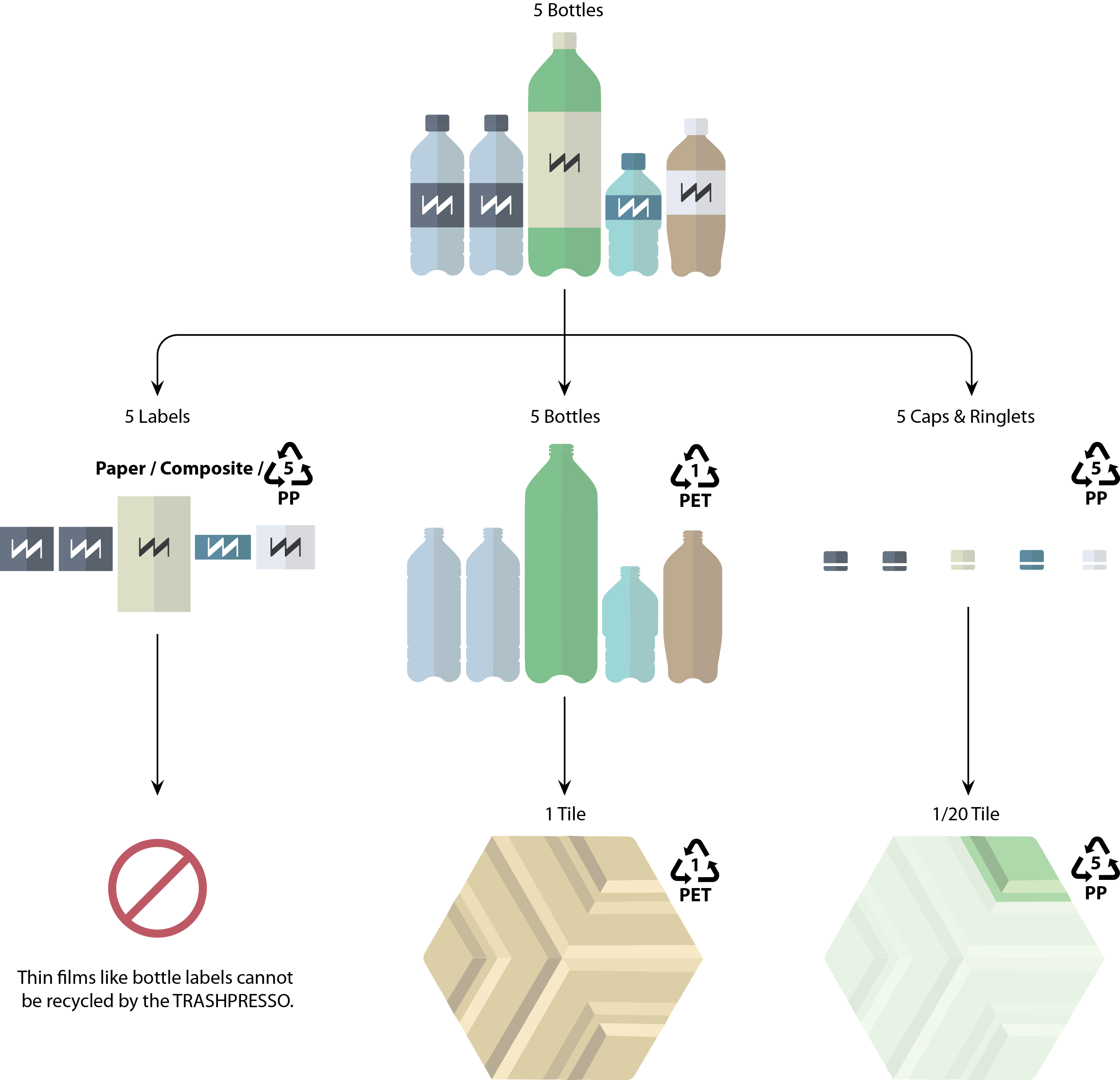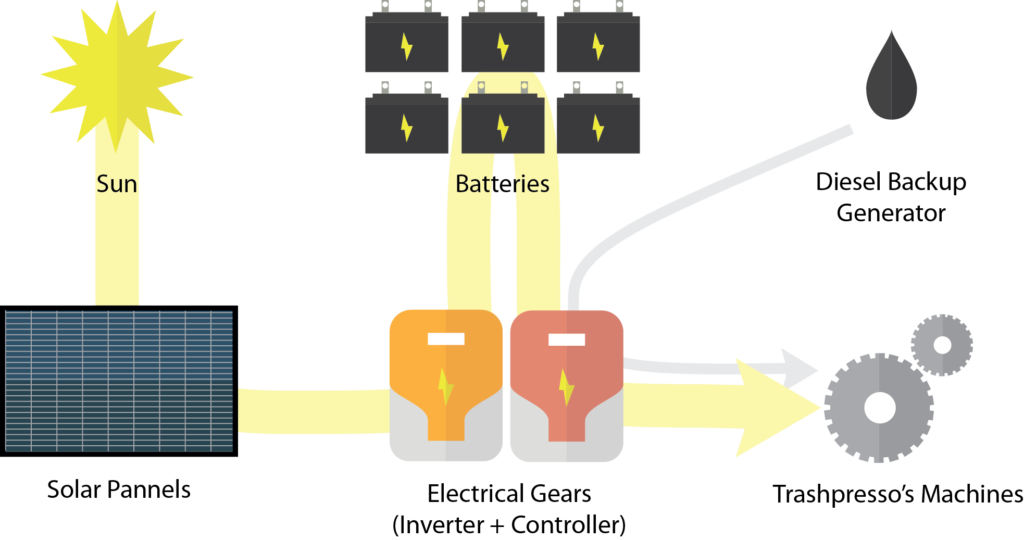 Powered by renewable energy
The TRASHPRESSO requires 40.5 KW to operate all of its machines and filters. The energy is provided by a solar powered battery that can store up to 80 KW per charge. To mitigate this risk of relying solely on solar energy the TRASHPRESSO is also equipped with a back-up biodiesel generator.
How much is 40.5 KW of energy ?


The TRASHPRESSO recycling processes use 100 L of water. No water is lost in the process as it is looped back through three steps of filtration: quartz sand filter, ultra-filtration, and reverse osmosis.