The TRASHPRESSO aims to inspire everyone regarding waste management. Showing live the process of recycling. Reaching isolated places and teaching how to recycle. Being a part of a production line to generate fewer leftovers. Sharing a proper knowledge of polymer science and recycling. This aim is reached by two means: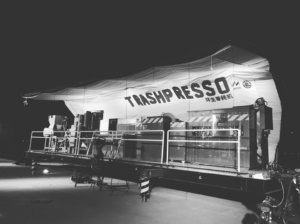 On-Demand activation

The on-demand activation of one of the existing TRASHPRESSO own by Miniwiz.

On-Demand Manufacturing

The on-demand manufacturing of a new customized Trashpresso own by you.
The TRASHPRESSO team, which includes the engineering support, the management, and the marketing, direct employees of Miniwiz, is concerned with the need to rise up the trash systemic problem awareness among all populations. The team dedicates its energy to offer you the best TRASHPRESSO activation/manufacturing possible, thanks to its know-how based on previous experiences.
On-Demand Activation
Rent One Of The Existing TRASHPRESSO
The activation of the TRASHPRESSO is available for companies, NGOs, governments, collectivities, anyone who want. For any time duration whished. It can be a weekend beach clean up, a monthly recycling program, a week exhibition with brand activation. The TRAHSPRESSO activation is done with TRASHPRESSO 1 in Asia or TRASHPRESSO 2 in the EU and Middle East (in the future, with TRASHPRESSO 3 in North America). The on-demand activation is to be paid by you, the activator, after the review, and signature of a customized renting/activation contract between you and Miniwiz legal team.
The on-demand activation is delivered with services provided exclusively by Miniwiz. These services  and one of the TRASHPRESSO rental include the following costs:
Update – 2018, August – TP1 is stored in Beijing, TP2 is stored in Milan
Additional information: Miniwiz Co.,Ltd. reserves the right to select the transport company regarding its liability policy for damages that may be caused by the transport of the TRASHPRESSO. Miniwiz Co,,Ltd. is responsible for the cost involves by tooling purchasing, spare part supply, and fixing during on-demand activation.
Activation Example
MILAN DESIGN WEEK 2018 – 78k US$
The cost of an activation fluctuates according to the demand. Miniwiz is willing to share the cost details of the last activation during Milan Design Week 2018. Please, note that these cost details are not meant to be used as accurate numbers, but as a gross estimation to let you, the activator, have an expenses order size.
6 days of Set Up/ Close Down
On-Demand Manufacturing
Customize Your Own TRASHPRESSO
The TRAHSPRESSO fabrication is tailor-made regarding your waste, the outcome of its recycling, the energy source and the portability you desire. Miniwiz' TRASHPRESSO 1 & 2 have been developed based on full portability (boat, rail, and truck ready), solar energy back up by diesel and city grid to recycle any kind of disposable plastics into tiles. They have been built at Miniwiz' Shanghai office.
The choices made could have been different:

Truck Ready
City grid supported, turning PET bottles into multifilaments yarns, built in the EU for European demonstration events like Milan Design Week.

Indoor Stationary
Solar panels on top of the building backup by city grid, turning fabric waste into hard panels for architecture, built in India for production leftovers recycling on site.

Fully Portable
Supported by solar panels and wind turbines energy, turning paper lined with plastic coffee cups into crates, built in the US for beach clean up.
Several TRASHPRESSOs can be combined as joined production modules like Textile Lab #1, 2 & 3. They can be supported by solar pannels by increasing the number of energy modules (battery and its electronic).
Miniwiz is willing to share the cost order size of the manufacturing. Please, note that these cost details are not meant to be used as accurate numbers, but as a gross estimation of a potential customization done at Miniwiz' Shanghai office. The manufacturing of a TRASHPRESSO at another location can generate additional fees. The price range depends on the existing options for one given module cost. One Trashpresso, basically, consists of an energy module, one or two production module(s) and their housings.
Energy Module(s)
80k – 160k US$
Recyling Module(s)
100k – 300k US$

Module Housing(s)
7k – 150k US$

Premium Satellite Housing
40 ft.: 75k US$
20 ft.: 45k US$

High-end Trailer Housing
20 ft.: 20k US$

Customized Container Housing
40 ft.: 10k US$
20 ft.: 7k US$
Manufacturing Example
TRASHPRESSO 1 – Total cost 395 US$
 Energy Module
Solar + Diesel + City Grid
120k US$
Recycling Modules
Flaking + Cooking
155k US$

Premium Satellite Housing
1×40 ft. + 1×20 ft
120k US$
The TRASHPRESSO 2 cost increases by 15k US$ because it includes 3×20 ft. premium satellite housings.